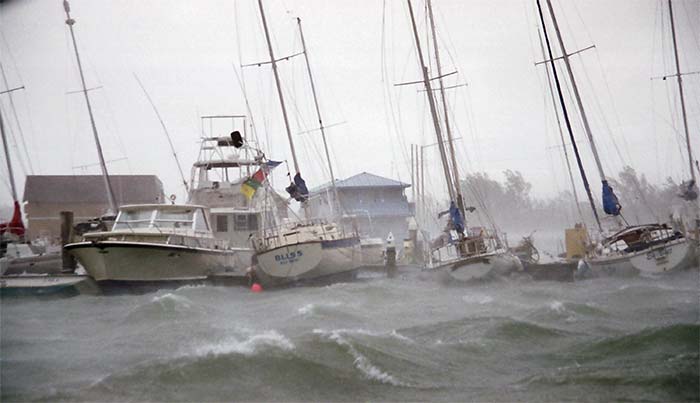 Hurricane Tips Main Page
Hurricane Tips at Home
Hurricane Preparedness PDF
Hurricane Tracking Chart

Keeping Your Boat Safe in a Storm
Virginia coastal areas are vulnerable to intense coastal weather, including hurricanes. Hurricanes are very unpredictable and can be deadly. Boaters need to be aware of the hurricane threat in Virginia and should know what to do if a storm is approaching. Even the least severe Category 1 hurricane can have devastating effects in crowded harbors.
Although the harbor and marina managers try to ensure that boats in their harbor are safe, the final responsibility falls upon the boat owner. Owners are ultimately responsible for their vessel. In order to protect personal property and the vessels around them, owners must: know their boats and their own skills; know the surrounding area; and, have a plan.
Creating a plan and being ready for a hurricane starts well in advance of the boating season. When vessel owners prepare their vessels for the boating season, they should also prepare a hurricane plan. This plan should review all the options available. Prior to the hurricane season, decisions should be made as to where the safest place for the vessel would be.[/vc_column_text]
Here are some tips to help boaters develop their own hurricane preparedness plan:
Early preparation and planning are key.
Purchase and stow line specifically for use in the event of a hurricane. As a general rule, the line should be twice the diameter of your normal line.
Monitor National Weather Service marine broadcasts and begin preparing at the earliest hurricane alert stage.
EVACUATE your boat if emergency management officals advise you to do so.
All boat hurricane preparations should be completed 48 hours before the hurricane arrives to allow you to concentrate on your family and home.
Secure all hatches and doors and tape all windows from the inside.
Check battery for charge and make sure bilge pumps are working.
Shut off fuel lines at the tank and close thru hull fittings.
Remove all electronics and valuables to prevent destruction or theft.
If you have a trailerable boat:
Remove the boat from the water and secure both boat and trailer on high land.
Trailer should be firmly anchored to prevent or minimize damage.
If you have a boat on a dock:
DO NOT STAY ON YOUR BOAT DURING A HURRICANE!
Remove all articles on deck including bimini tops, plastic side enclosures, sails and dinghies. Store these items on land.
Double up lines including spring lines. Use several cleats to distribute load on the boat.
Allow as much line as possible for tide and storm surge.
Attach chafing gear such as reinforced radiator hose where lines will rub. Provide several feet of chafing hose on each side of rub locations.
Disconnect electric, water and other connections from dock.

If you will be anchoring out:
DO NOT STAY ON YOUR BOAT DURING A HURRICANE!
Have a pre-planned "hurricane hole".
Avoid shoal areas and look for areas with high embankments.
Consult CHAPMAN'S or other responsible literature for best anchorage and anchoring methods
Review your insurance policy – with your provider, if possible. Boat owners whose marine insurance requires them to relocate their vessels out of a hurricane zone should do so by the date specified in their policy. But for those who plan to not relocate their boats, it's important to have a Storm Plan ready to execute as soon as the forecast spells danger.
Most insurance providers require a formal written Storm Plan detailing where and how your boat must be secured during a hurricane. Make sure your insurance policy is current and in force, and that you know what actions it requires you to take in the event of a storm. If you live out of the area during the summer months, designate a responsible person to execute the Storm Plan in your absence.
It's also important to check the lease or dockage agreement with your marina, storage facility or private dock owner where your boat is moored to be sure the vessel can remain there during a hurricane. If it can stay, be sure you know the procedure for securing not only your vessel, but those docked around it, as well. A boat that breaks loose in a hurricane can wreak havoc on neighboring vessels.
Some facilities demand that boats be removed from the water when a major storm is forecast. Owners who must move their boats should decide where to have it hauled before the hurricane season begins. Don't wait until a storm is imminent. Charges for storm haul-outs may be covered by your insurance policy.
Closely monitor local and national weather services including NOAA Weather Radio.
Make an inventory, preferably by video, of all valuable fixed items such as marine electronics on board your boat.
Store all the boat's important documents, including your marine insurance policy, in a secure place off the vessel.
When a storm is forecast for your area, remove all detachable items from your boat, such as canvas, sails, cushions, fishing rigging, radios and antennas. Lash down everything that you cannot remove, including booms, tillers, wheels, etc.
Deflate your dinghy and store it and its outboard off the boat. If it's a fiberglass dinghy, have it stored in an indoor facility.
If your boat is in a facility with shore power, be sure all power is turned off and all shore power cords are stowed securely. Disconnect your boat's battery from the shore power source.
Do not stay with your boat or try to ride out a storm on board. No matter how valuable your vessel is to you-both financially and sentimentally -it's not worth your life.